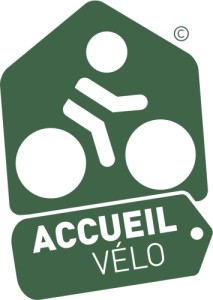 "Bike Welcome"
Since December 2017, the residence has been classified as "Accueil Vélo", a national label that guarantees cyclists a welcome and quality services along the cycle routes.
Access to cycle routes:
The "Green Lane" of the Tour du Lac (42 km) passes in front of the residence Florimontane (10 meters), and the start of the road to the Col de Forclaz de Montmin is just 400 meters.
Home :
As regular practitioners we know the needs of cyclists, and attach great importance to details that facilitate their stay.
Abundant documentation of cycling tours in the area is available to our guests at the bar and reception of the residence. (in French and in English)
You will also find bus schedules (Lihsa Line 61) and boats (Compagnie des Bâteaux) between Talloires and Annecy.
In case of early bike starts, breakfasts can be offered from 7:00 am (please inform in advance)
Buffet breakfasts are complete, rich and varied, adapted to the needs of cyclists. (Eg ham, local cheeses, eggs and porridge)
Services :
Access to the internet by WIFI is free at the residence.
The sites of Meteoblue, Meteo France, Meteo Parapente are reliable and accurate for our region. If you have planned swimming, www.annecy-meteo.com even gives you the water temperature of the lake! Often we also have the Weather of "Dauphiné Libéré" (our local newspaper).
The local Taxi is Alpes Logistique, Annecy you also have many possibilities for transporting people and luggage transport. (See with the reception).
A washing machine and a tumble dryer are available to guests, see the reception. (6 € per machine, laundry included) *
Sandwiches and packed lunches possible. Thank you for making the request the day before.
Bike rental :
At the residence, we rent bikes (3 VTC (bike all path) and 3 electric bikes (Scott) , 2 road bikes)
If you want more specific bicycles (eg electric mountain bikes, "Gravel Bikes" or racing bikes), you can contact Base Camp, located in the center of the village of Talloires (09.77.19.55.00), 2 km from the residence.
On Annecy and Annecy le Vieux, "Roul ma Poule" offers a wide choice of VTC bikes and even Tandems.
Routes to Bikes:
To prepare your bike trip in the region, we strongly recommend a visit to the Savoie Mont Blanc site, to discover the 1058 selected cycling routes! We recommend you download the "bike app" for Android or Iphone.
Bicycle storage & workshop:
On site, we offer a closed room for storing bicycles. Electric socket available for charging the batteries. (VAE)
If you have to clean, make a technical check, adjust or repair your bike, we put some basic tools at your disposal, as well as a jet of water and "Kärcher".
We also have standard bicycle pumps and foot pump and "high-pressure" pump for shock absorbers. Of course all the repair equipment in case of puncture and spare tubes.
Car park :
The residence has ample free parking, available to guests, even if they are on a traveling trip over several days.